Z3 Refresh Deodorant Aluminum Pot
Regular price

Sale price

$20.00
The light floral scent of ylang-ylang balances perfectly with the woodsy aroma of cedarwood, making this all-natural deodorant smell like a warm tropical hug (you'll know what we mean when you smell it). This high-quality blend combines earthy cedarwood and ylang-ylang, zesty grapefruit and bergamot, with a spark of calming lavender.
Not only are the essential oils a pleasure for the senses, but they carry proven benefits for both body and mind.
Contains only natural high-quality ingredients
Lasts

12

hours in any climate without having to reapply
Is completely invisible upon application and doesn't mark clothes
Does not contain Alcohol, Parabens, Propylene Glycol, Triclosan, Synthetic Fragrances or other harmful chemicals

Pro Tip: The tin can also be used to store shampoo bars or travel soaps when empty.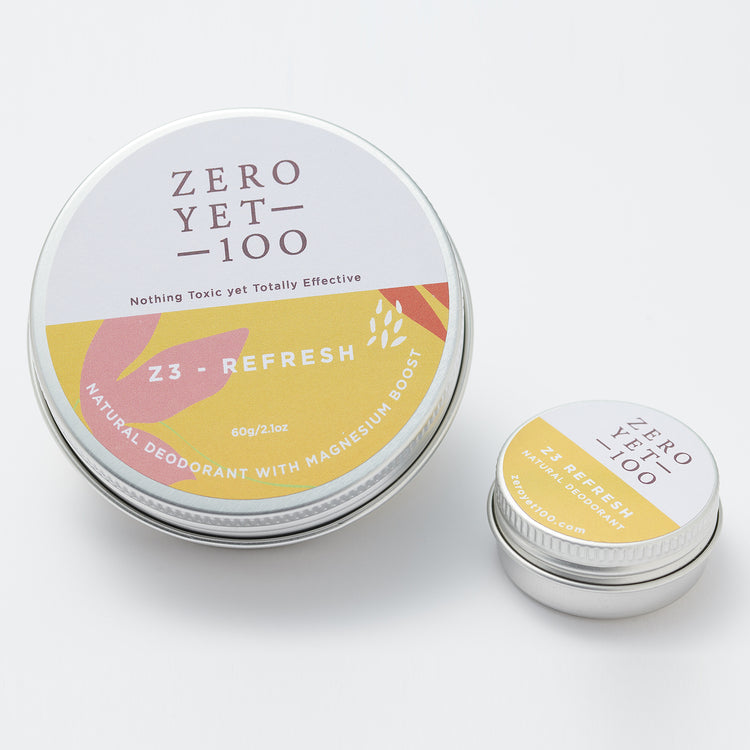 Description
What am I?

Our highest absorbency formulation yet, the unisex Deodorant Pot is perfect for workouts, hikes, and those who run just a tad sweatier. The powerful formula has got your back all year round – from the humid summers to bundled-up winters.

The deodorant naturally neutralizes odour and absorbs wetness while keeping you stain-, irritation-, and grease-free.

The sleek, recyclable pot easily slips into a day or gym bag for on-the-go top ups.
Essentials

cedarwood is a natural astringent and encourages your skin to build a stronger surface – protecting it from environmental toxins and gunk;
ylang ylang is an antiseptic and calms your mind;
grapefruit tones your skin and uplifts your mood;
bergamot prevents infection and is a worry-buster;
and lavender soothes skin and calms your nervous system.
What am I made of?

Our Deodorant Pots are enriched with:

super absorbent arrowroot powder;
nourishing cacao seed and shea butter;
purifying activated charcoal to draw out all the nasties;
acne- and wrinkle-fighting magnesium hydroxide;
anti-inflammatory castor seed oil;
and an oil blend of almond, apricot, jojoba, Avocado, and vitamin E to smooth and nourish your skin.
Ingredients

Maranta Arundinacea (Arrowroot) Powder, *Virgin Cocos Nucifera (Coconut) Oil, Theobroma Cacao (Cocoa) Seed Butter, Magnesium Hydroxide, Vitellaria Paradoxa (Shea) Butter, *Caprylic/Capric Triglycerides, Aluminium Free Sodium Bicarbonate, Food Grade Diatomaceous Earth, Castor Seed Oil, Euphoria Cerifera (Candelilla) Wax, Oil Blend (Almond, Apricot, Jojoba, Avocado, Vitamin E), Activated Charcoal

*organic
How to use me

With clean fingers, scoop a pea-sized amount out of the pot. Massage the paste onto clean, dry skin for a few seconds until it's absorbed. Apply as needed and carry on with your day!

Insider tip: The pots aren't just for sweaty underarms. Other Deo Pot users have said they've applied it on their palms, thighs, and below their bra line to stay dry throughout the day.


Are you looking for a lighter version of the Z3 Pot?

Check out the Z3 Paper Push Up Stick for medium-strength coverage and the Z3 Spray for lighter coverage.
Online purchase experience
I love the deodorant but was disappointed that I did not get the small travel size for free. I ordered several aluminium pots because the online pictures showed the big pot and the small travel size as one set. However when my purchase arrived, there were no travel sizes included
Made a multiple purchase this time so I dont quickly run out. I love the scents on all the deo's and particularly like the tins because they last a super long time and more than regular deo's in my experience.
I love the deodorant pots. You just need a small amount, they smell great and they work, even in humid Hong Kong weather. I love that the product is natural and I can reuse the pots. Been using at least 2 years now. Small size that's included is great for travel.
I absolutely love this deodorant. Not only does it smell great and work well at controlling odor, it is also such a sustainable product. I take so much comfort in the fact that this deodorant uses no palm oil or toxic ingredients, making it so much better for me, the environment, and animal populations!
Furthermore, the beautiful pot it comes in is a perfect travel size container. using a pea sized amount every day, my jar has so far lasted me 4 months, and it's only half empty. I've tried many different deodorant brands throughout my life, and this is the best one I've ever had. I'm never trying another :)
I swear by these little travel sized pots. They leave my pits dry, fresh and pleasant smelling. For someone who's been strong smelling since a teenager, Anita and Sheetal's products have changed my life. I wouldn't be able to live elsewhere without the products. Other brands aren't strong enough for me while still being natural, yet so effective. I used the deo with the mask at night for 3 nights and my pits are like new.