Z1 Spa Deodorant Push up Stick (Baking Soda Free)
Regular price

Sale price

$21.00
This well-balanced zesty and refreshing stick up deodorant will feel like an ice-cold lemonade on a hot summer day. This all-natural blend combines zingy pine, lemongrass, and patchouli with soothing lavender, sweet orange, and palmarosa for you to feel fresh all day long.
Not only are the essential oils a pleasure for the senses, but they carry proven benefits for both body and mind.

This formula does not contain baking soda, which is perfect for those who have sensitive skin.


Contains only natural high-quality ingredients
Lasts 

12

hours in any climate without having to reapply
Is completely invisible upon application and doesn't mark clothes
Does not contain Alcohol, Parabens, Propylene Glycol, Triclosan, Synthetic Fragrances or other harmful chemicals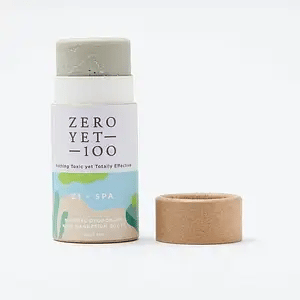 Description
What am I?

Our unisex Natural Deodorant Stick is our Goldilocks – medium strength for everyday use. The formula comes in a familiar format and is excellent to throw in your bag when you're on the go.

The deodorant naturally neutralizes odour and absorbs wetness while keeping you stain-, irritation-, and grease-free.
Essentials

pine deodorizes while soothing and relaxing your skin;
lemongrass not only relieves stress but is also antibacterial and antifungal;
patchouli improves the appearance of wrinkles, scars, and blemishes. The calming scent also helps to alleviate stress;
lavender soothes skin and calms your nervous system;
sweet orange is antibacterial and uplifting;
and palmarosa freshens and clears up your skin, while also boosting your mood with it's soft, rosy scent.
What am I made of?

Our Deodorant Sticks are enriched with

arrowroot powder, which is super-absorbent but lets your skin breathe;
antifungal and pH balancing coconut oil;
vitamin-rich and soothing shea and cocoa seed butter;
odor-fighting and antibacterial Magnesium hydroxide;
collagen-boosting and odor-absorbing Diatomaceous Earth;
anti-inflammatory Castor seed oil;
and an oil blend of almond, apricot, jojoba, Avocado, and vitamin E to smooth and nourish your skin.
Ingredients

Maranta Arundinacea (Arrowroot) Powder, *Virgin Cocos Nucifera (Coconut) Oil, Helianthus Annus (Sunflower) Seed Wax, Magnesium Hydroxide, Vitellaria Paradoxa (Shea) Butter, Theobroma Cacao (Cocoa) Seed Butter, *Caprylic/Capric Triglycerides, Cetyl Palmitate (Palm derived), Food Grade Diatomaceous Earth, Isoamyl Laurate (Sugar and Coconut derived), Triethyl Citrate (naturally derived), Kaolin Clay Castor Seed Oil, Euphoria Cerifera (Candelilla) Wax, Oil Blend (Almond, Apricot, Jojoba, Avocado, Vitamin E), Activated Charcoal

*organic
How to use me

Warm up the stick using your natural body heat and swipe once or twice under clean, dry armpits – you only need the smallest amount for this to work. Apply as needed and carry on with your day!

I come in a paper push-up stick that's good for your skin and good for the environment. Throw me in the recycle bin once you're done using all the goodness inside OR reuse me by getting a refill.
Are you for a different version of Z1?

Check out the Z1 (Baking Soda Free) Pot for high-impact coverage.
I feel fresh, it smells amazing and it lasts throughout the day without a retouch. I have extremely sensitive skin, so the oils moisturize and leave it smooth. Such a great product and now, i can never go back to regular deodorant. Plus, no deodorant stains!
I started the switch to natural deodorants years ago, but never truly found an effective one. as i became aware of our overwhelming plastic use and plastic pollution i was looking for zero waste natural deodorants without baking soda and this one ticked ALL the boxes!
It works, it's healthy, can't go wrong, NO ALUMINUM
No smell! I've used the baking soda free for years and this works great and no irritation!
I love the new deodorant stick! I have a sensitivity to baking soda, I tried the new deo stick and have had no irritations only smooth and great smelling arm pits!