Z2 Woods Deodorant Aluminium Pot
Regular price

Sale price

$20.00
This fresh and earthy deodorant will feel like a warm and breezy spring day spent on the grass. This all-natural blend combines the deep scent of vetiver, ginger root and black pepper with citrusy grapefruit and lime for neutralization of odor while bringing inner and outer harmony. 
Not only are the essential oils a pleasure for the senses, but they carry proven benefits for both body and mind.


Contains only natural high-quality ingredients
Lasts 

12

hours in any climate without having to reapply
Is completely invisible upon application and doesn't mark clothes
Does not contain Alcohol, Parabens, Propylene Glycol, Triclosan, Synthetic Fragrances or other harmful chemicals
Pro Tip: The tin can also be used to store shampoo bars or travel soaps when empty.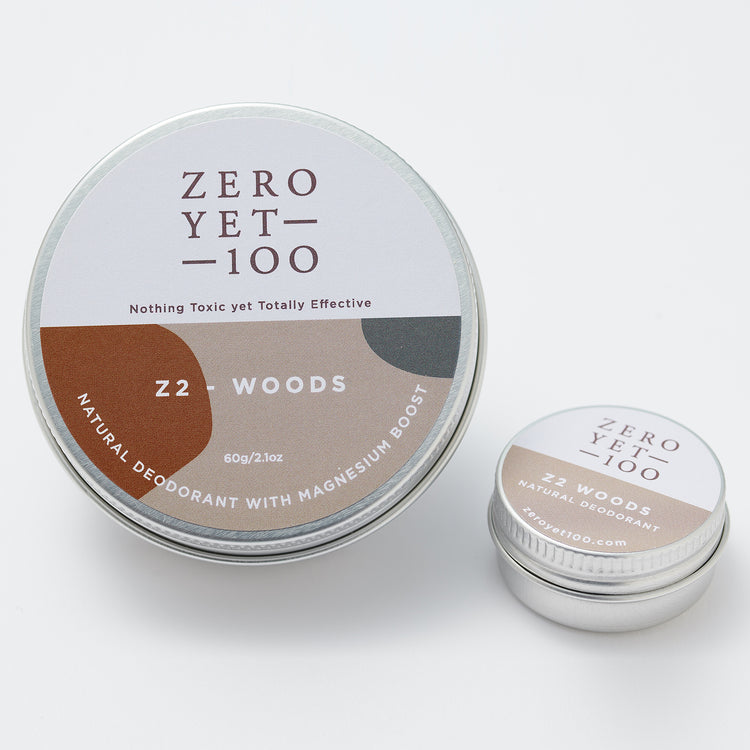 Description
What am I?

Our highest absorbency formulation yet, the unisex Deodorant Pot is perfect for workouts, hikes, and those who run just a tad sweatier. The powerful formula has got your back all year round – from the humid summers to bundled-up winters.

The deodorant naturally neutralizes odour and absorbs wetness while keeping you stain-, irritation-, and grease-free.

The sleek, recyclable pot easily slips into a day or gym bag for on-the-go top ups.
Essentials

vetiver gently clears your blemishes while promoting relaxation;
ginger root stimulates blood flow and keeps bacteria at bay;
black pepper detoxifies the body;
grapefruit tones your skin and uplifts your mood;
and lime is antiseptic and gives your energy a lil' boost.
What am I made of?

Our Deodorant Pots are enriched with:

super absorbent arrowroot powder;
nourishing cacao seed and shea butter;
purifying activated charcoal to draw out all the nasties;
acne- and wrinkle-fighting magnesium hydroxide;
anti-inflammatory castor seed oil;
and an oil blend of almond, apricot, jojoba, Avocado, and vitamin E to smooth and nourish your skin.
Ingredients

Maranta Arundinacea (Arrowroot) Powder, *Virgin Cocos Nucifera (Coconut) Oil, Theobroma Cacao (Cocoa) Seed Butter, Magnesium Hydroxide, Vitellaria Paradoxa (Shea) Butter, *Caprylic/Capric Triglycerides, Aluminium Free Sodium Bicarbonate, Food Grade Diatomaceous Earth, Castor Seed Oil, Euphoria Cerifera (Candelilla) Wax, Oil Blend (Almond, Apricot, Jojoba, Avocado, Vitamin E), Activated Charcoal

*organic
How to use me

With clean fingers, scoop a pea-sized amount out of the pot. Massage the paste onto clean, dry skin for a few seconds until it's absorbed. Apply as needed and carry on with your day!


Insider tip: The pots aren't just for sweaty underarms. Other Deo Pot users have said they've applied it on their palms, thighs, and below their bra line to stay dry throughout the day.


Are you looking for a lighter version of the Z2 Pot?

Check out the Z2 Paper Push Up Stick for medium-strength coverage and the Z2 Spray for lighter coverage.
Didn't think this scent would be for me, but in the summer months in Norway I found it suited me really well.
My family has always been skeptical of natural deodorant. Not because we don't like natural, but because our success rate has been zero. I don't sweat much, but my daughters inherited their fathers sweat glands, and have always had to use the strongest products out there. I have convinced them to try my zeroyet100 deodorant and now they are all sold. ALL of them. So amazing!
I have tried a lot of natural deodorants but have never been very happy. I have tried both the Z1 & Z2 deodorants and love them both. In fact, I have repurchased both scents twice already.
I've been waiting for something that would protect my skin, be effective, not stain my clothes...I cannot believe I finally found it!! You have totally improved the quality of my life. Thank you!!!
Love it! And I love that it comes in recyclable/reusable pot, which are so cute and useful!